Your business deserves a reliable roof that's installed by a skilled team.
As a business owner, you understand the importance of maintaining durable, reliable, and visually appealing facilities. One of the best things you can do for your commercial building is install a roof you can count on, and our team at Aspire Roofing and Gutters is prepared to do that for you. We install a wide range of commercial roofs in the greater Tyler, Texas area and surrounding cities, and our roofers have over 15 years of experience in the industry.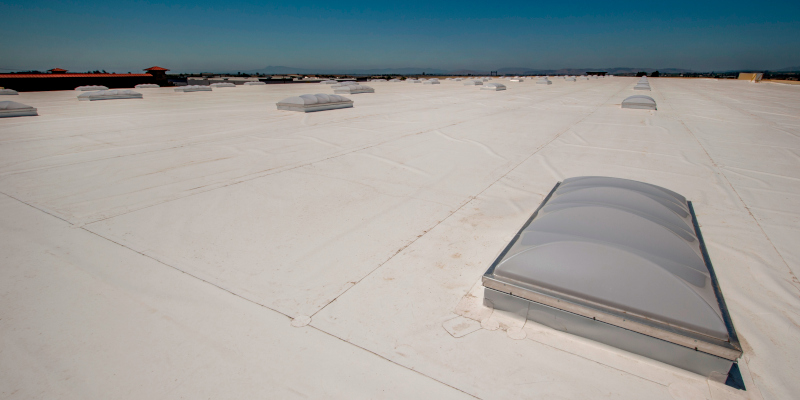 One roofing option to consider for your commercial building is TPO roofing, a single-ply roofing membrane that is made from rubber and plastic and reinforced with polyester or fiberglass. This type of roofing system comes with a variety of advantages, including the following:
Durability- TPO roofing is incredibly durable and resistant to UV radiation and chemicals. It also holds up well against a variety of environmental factors and won't tear or become punctured easily.
Energy Efficiency- TPO roofing is well known for its solar reflectivity. Since the material reflects sunlight, it wards off heat and keeps the building cool. That means your air conditioning doesn't have to work as hard and you can keep your cooling costs down as a result.
Cost-Effectiveness- This type of roofing system is one of the most affordable roofing options for business owners. The material itself costs less than many other common commercial roofing materials, and because of its ease of installation, labor is often cheaper as well.
Your business deserves a reliable roof that doesn't cost you an arm and a leg, so turn to our team for TPO roofing. We will use high-quality materials and install it attentively. Contact us today for more information.
---
At Aspire Roofing and Gutters, we offer TPO roofing services in Tyler, Beaumont, Longview, Port Arthur, Huntsville, Texarkana, Lufkin, Nacogdoches, Paris, Marshall, Lindale, Hideaway, Swan, Owentown, and New Chapel Hill, Texas.