We sell and install 6" K-style gutters to protect and enhance your home.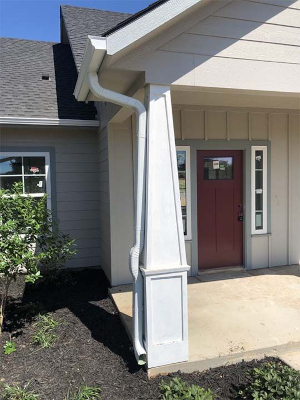 When it comes to choosing materials for your home's exterior, there are two principal factors to keep in mind: protection and appearance. This should be the case for both your roof and your gutters. Your gutters are a necessity, as they catch rainwater and divert it away from your home and its foundation to prevent water damage. When gutters are the right size, they protect your home effectively, but you also want to choose gutters that complement your home. Therefore, our team often recommends 6" K-style gutters for homeowners.
K-style gutters get their name from their appearance when you view them from the side. The profile resembles the letter K, while the front of the gutter looks like traditional crown molding. This style looks elegant on any type of home, and because 6" K-style gutters are larger than their 5" counterparts, they do an exceptional job of capturing water and channeling it to the appropriate location. 6" K-style gutters may not be suitable for smaller homes or houses with low-slope roofs, but if your home is large and your roof's pitch is steep, investing in larger gutters is a wise decision.
Here at Aspire Roofing and Gutters, our team has several years of experience installing 6" K-style gutters on homes in the greater Tyler, Texas area and surrounding cities. If you need high-quality gutters and expert installation to protect your home, contact us today. We look forward to helping you enhance the beauty and functionality of your house.
---
At Aspire Roofing and Gutters, we offer 6" K-Style gutters in Tyler, Beaumont, Longview, Port Arthur, Huntsville, Texarkana, Lufkin, Nacogdoches, Paris, Marshall, Lindale, Hideaway, Swan, Owentown, and New Chapel Hill, Texas.